Latest Articles
APRIL / MAY RACE BOAT NEWS
Hi All

Due to the Easter weekend in the middle of April we have had to change the due date for this issue to next

Tuesday 4th April


This way fingers crossed you will all have your copy before Easter, mind you we are in the hands of Australia Post.
If any of you wish me to include anything in this issue please email or call me on the information below
Cheers
Gail
02 9457 0329
0407 780 360
raceboatnews@gmail.com
Skiff's - Past & Present
Hi, are you still looking for photos and info?
Goolwa Aquatic Club Powerboat Picnic 19th March
We had our last day out before the April Aquafest today.
Goolwa finally turned on a beautiful day for it.
Good roll up of boats, of all varieties, some down for some fun,
others testing set ups or running in new equipment.

Spots are still avaliable for the Aquafest, so get your entries in.

Enjoy the pics from today.

[URL=http://s158.photobucket.com/user/fboldn/media/Goolwa%20Powerboat%20Picnics/2017%20Mar%2019th/IMG_3325_zpsdhoetebj.jpg.html][img:b30c0e1fab]http://i158.photobucket.co ...
WANTED - old skool blown injected big block
Hi all, the time has come to start to find a heart.
I'm looking for an old style blown injected big block, something that has an early style blower and drive, early three or four injector hat, Hilborn pump and lines, barrel valves, complete blower and drive, and hopefully all sitting on a big block Chevy.
Really, I'd like a complete unit.

This is not for speed and power.
It is for nostalgia, loud crackle, on methanol, and for looks.

Have a look down the back shed or under the bench and ...
1986 v6 mercury powerhead studs/bolts
Hi I'm in need of the 4long powerhead studs?
Does anyone have any they could sell or know where I can get some?
2016 / 2017 SEASON
The Season started well at Glenmaggie in Victoria prior to Christmas with the visiting New Zealand GP Hydro teams , great presentation , extremely sociable and approachable backed up by spectacular performance on the water.

How have all you participants and followers of the sport found the rest of the Season so far ?

What are the must see Events still to be run ?

Wild Woody.
Vale Gary Thorn.
On Tuesday 07/03/17, we lost another outboard racer at the age of 61.

Below is a note from his very good friend and fellow outboard racing mate, John Hudson.

Gary Thorn was a long time member of SOC. Gary started in ski racing with his father (Barry) in the early 70's. Then Gary raced 25hp class with his own designed and built tunnels. In 1985 was in the very first group to race a Yamato. He was so keen to race a proper racing outboard, he prepaid for his motor, which was one of the first ...
Complete ready to race boat
forsale is the real culprit

17'6 gambler runner bottom
duel axel trailer with breaks new bearings
haynes box 22% fresh built by childsplay
roll bar
cowling
new log all been glassed in aswell as new new log gland

engine is a 410 sbc injected alcohol
Block Dart shp 1184 350 Main
Crower Billet Crank 3.750 LJ 350 Main
Oliver 6in Rod LJ with 7/16 WSB cap bolts
CP Pistons 4.165 Bore Size (Comp 15.2)
Sure Cam Std Cam Bearing Roller Cam 281-290 at 108 L/C, Exh lift .694, Inl .735
...
Goolwa Aquatic Club's 2017 Aquafest - Entries Now Open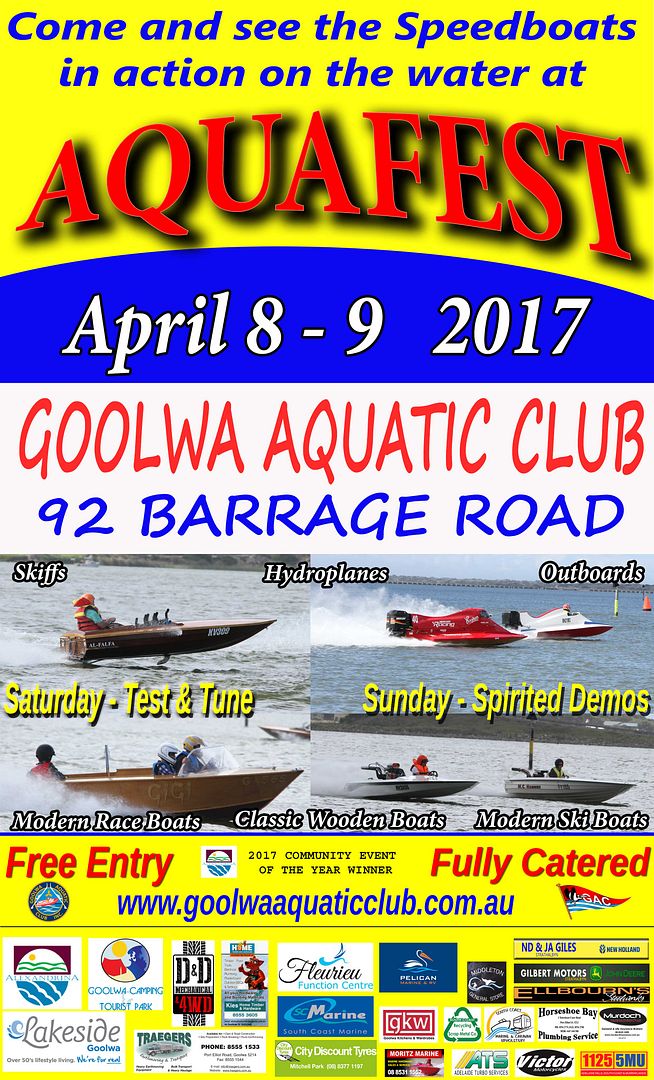 Hi All

Entries are now open for this year's Aquafest. April 8th & 9th
Click on the link below to enter your boat. (You will need to enter an email address)
If you enter more than one boat, please do a separate entry for each boat.
When you have enter ...
WTB Holley XP750
Only wanted in very good condition
Pm me