Latest Articles
Goolwa Aquafest 9th&10th of April 2016 Entries now open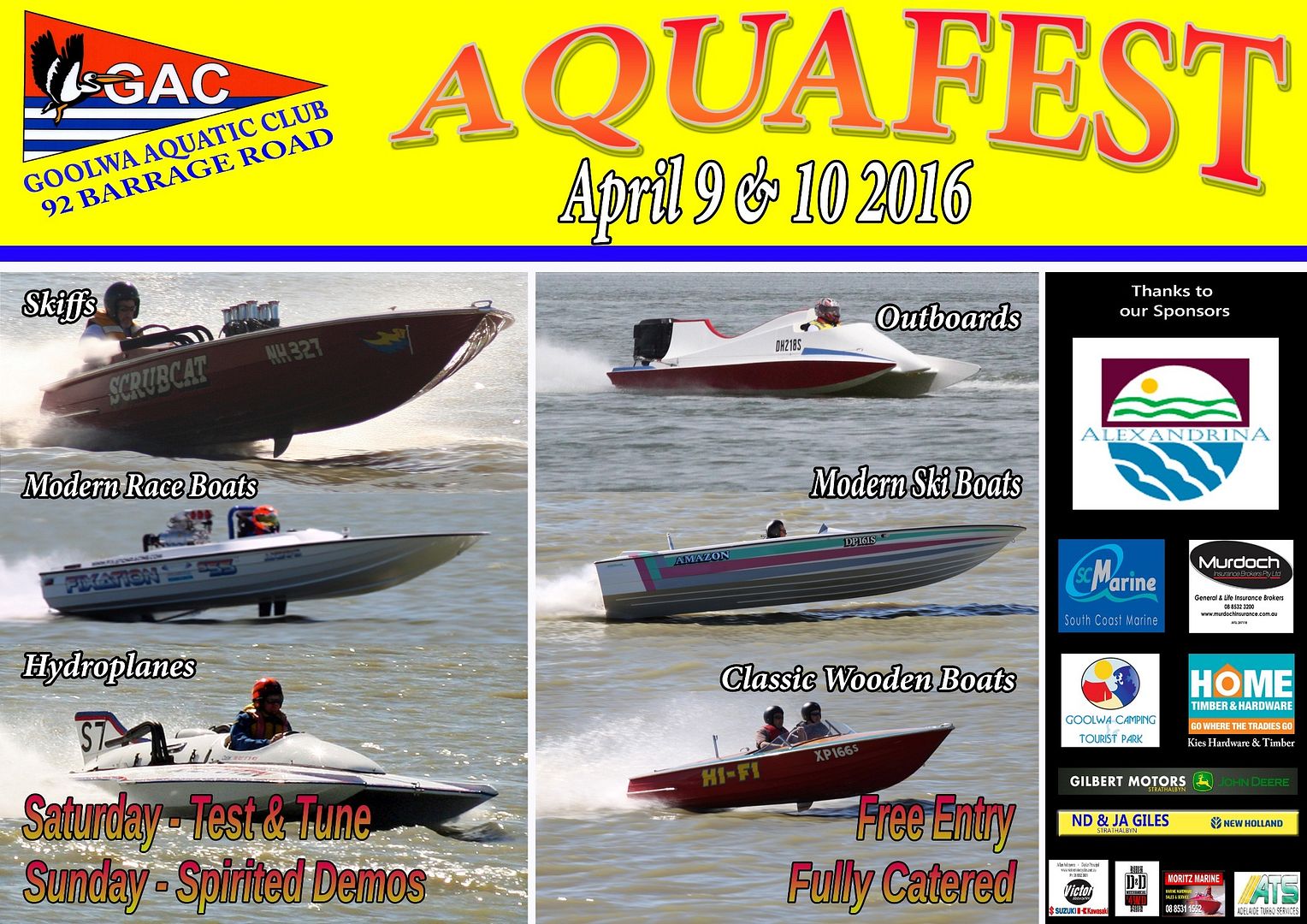 Hello Everyone

Entries are now open for the 2016 Aquafest to be held at the Goolwa Aquatic Club over the weekend of the 9th & 10th of April.

The event is open to all powerboats, old and new, inboard or out board, vintage ,classi ...
the lords prayer
Its been awhile since anyone has posted on this thread and since the Lord's Prayer was sold and put in a shed about 39 years ago I'm not surprised.

Kevin Lord took the engine from the Lords Prayer and sold the boat and had a Deep V built. That boat became known as the Prayer.

The Lord's Prayer was sold to someone as a social ski boat and wasn't used much before it was put into a shed where it remain until now.

Late last year, Wayne Reid. Reid Marine Corwa, located the boat ...
Pacific 1000 Powerboat Race
1967.

Video footage of 1970s racing Brisbane, tweed, Grafton
brisbane to caloundra 1977. mean machine - greg swain.

haines hunter
john timb.

2016 Valentine's Day, what can you do for car?
2016 Valentine's Day is coming, car as your companion, can be treated as lover. Do you prepare gift for car? If you are racing car fans, you should have many choices gifts for car. Turbocharger, coilovers, rods, crankshaft, camber plates, and other engine parts. As engine parts manufacturer, Maxspeedingrods can give competitive price for these. See the idea:

http://www.maxspeedingrods.com/
February / March Race Boat News
Happy New Year

I am at the moment placing together the February/March issue of Race Boat News
Please forward to me anything you wish me to publish and call me for some great rates for advertising your business to your target market, and cleanout your garage in our classified section
Due date for this issue is

Monday 15th February



Cheers
Gail

02 9457 0329
raceboatnews@gmail.com
WTB - Cell Boat Air System mask
Hi all,

New to the group, Im wanting to enter the 1.6 Hydro Class but would prefer a cell boat.

Im hunting down a new or used Air System Mask either for a full or open face helmet.

Does anyone know of anything for sale or anyone moving on that has it for sale?

I know there is SRP and Tiger but have also seen other racers with other masks, what are they?

I appreciate all help.
nswhc meeting
nsw hydroplane club meeting wednesday feb 10 at pitt town sports club. 6.30 for dinner and 7.30 meeting. everybody welcome.
mercruiser turbo kit suit 4 / 6 cylinder inline engines, new
this is still in the original packaging dated 1979 USA, it is a complete water cooled turbo housing style Rajay turbo with all the parts to suit a chevy 4cyl blow through carb set up. could be used on many other engines as is or just use the turbo.has a 3 inch inlet on the cool side, the turbo bolts directly to the water cooled mercruiser exhaust manifold where the riser would normally go.any questions please ask

the turbo could fit many other automotive uses and because its water cooled wou ...